| | |
| --- | --- |
| Click to recommend this page: | |

It's difficult to characterize the politics of an entire country in small sound-bites, because such characterizations do not necessarily reflect the people themselves, their culture, values or lifestyles. Therefore, when describing the political and economic landscape of Cuba, I feel trepidation when I imagine the feelings on of those who may feel I'm over-simplifying a complex topic. To that, let us not forget this famous quote:
History is the version of past events that people have decided to agree upon.


--Napoleon Bonaparte (1769 - 1821)
With that in mind, let me assure all who read this that I am very well aware that there are different accounts of historical events, and worse, there are dramatically opposing interpretations of those events. There are those who are incredulous that I haven't portrayed Castro as a monster, just as those who may feel that I don't paint the Cuban landscape more positively. To the reader, let me remind you that this section is by no means material suitable for history books. It is merely a brief statement of my interpretation of history, taking into account the existence of extreme opinions on both sides of the spectrum.
Political Philosophy

Briefly, Castro lead a populist revolution in 1959, against Batista, the president of the then-democratic (and capitalist) government. Although Batista was elected years earlier, his presidency had become increasingly corrupt to the point of directing political assassinations and subverting all forms of dissent. His regime was just as corrupt economically as well, with the divisions between the rich and the poor increasingly widening over time. (By the time the revolution took place, less than 30% of the population was literate, or could even go to school.) Batista's close relationship with the United States at the time both supported and empowered his rule through economic relationships ranging from farming to oil refineries.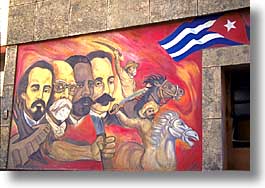 Castro's main intent was rather straightforward: to remove Batista and his corrupt government. Beyond that, he had basic ideals of providing equality to the rest of the Cuban people, but no great plan for how to establish a new government. Without much idea of what to do next, he appointed his comrad in arms, Ché Guevara, to run several of the ministries of the country, including the banks and several industries. Ché was attractive and romantic, and was purported to have great charisma. In fact, images of Ché are everywhere throughout Cuba to this day; a symbol of the revolution.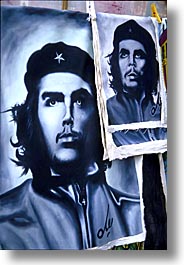 Because he was trained as a medical doctor, Ché had neither political or management skills. So, it wasn't long before his inexperience affected the financial state of the country. Factories and industries were run so inefficiently that it was clear someone needed to come in and help. The United States was extremely eager to play a role, but Castro was none too eager to partner with the friend of the man whom he deposed (Batista). While he didn't dismiss any of the world's countries that courted him, he ended up being won over by the Russians, although Castro didn't feel much more warmly towards them either. However, their anti-American posturing appealed to him.

Despite popular opinion, Castro was not eager to embrace communism at first; in fact, Castro himself, trained as a lawyer and who had a thriving business in Cuba in the 50s, had mostly been apolitical early in his adulthood. Although life in Cuba and the inequities brought about by the corruption of the Batista regime compelled Castro to learn towards a "socialist" style government. Some say he was already a communist at this point, but there is too little tangible evidence to support his wholesale embracement of it. Without doubt, however, Castro was firmly in the communist camp after he sided with Russia, who was only more than happy to befriend a new partner who already hates the United States. The USA, which had just come off the heels of the anti-communist rampage lead by the late Senator Joseph McCarthy ("the McCarthy Era"), was furious. The cold war with Russia made Cuba's relationship with the USA all the more brittle, and the downward spiral of tit-for-tat exchanges between the two countries escalated. In short order, American companies' assets were ceized, and money and infrastructure was taken in the name of the state. The USA responded with an economic embargo (still in force today), which lead to the infamous "bay of pigs" invasion, where the USA unsuccessfully tried to overthrow the Castro regime. The battle was lost and, as they say, "the rest is history."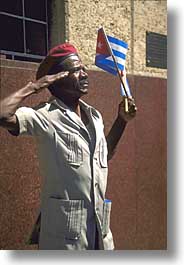 With financial and other help from Russia, Cuba established itself as a new country under a socialist paradigm. Interestingly, not all assets were ceized by the state at first. Initially, only those companies that provided important national infrastructure or resources were taken, and also any companies that were partly onwed (or did business with) America. This only lasted a short while, however, as more and more businesses were taken, during the quick transition to a full communistic state.

Today's situation is where one has to take into account all perspectives to get an accurate picture of reality. The government provides health, education, welfare and housing for its citizens. All people go to school, and their education, school uniforms, books, and food are all paid for. (Cuba has a higher literacy rate than many first world countries.) All children are guaranteed food, and health care is free. While this all sounds good on one extreme, one doesn't need to go further than the airport to see the other side of the coin. With its first-world and first-rate research facilities in medicine and agriculture, Cuba is still very much a third-world country, with a faltering economy, infrastructure, health and social freedoms. Poverty exists everywhere, Havana still suffers major blackouts on a regular basis due to the insufficient power and technology, and an unintended visit to a local hospital can even make a relief worker whince. The opportunity for expression (speech, writing, political discourse, art) is also subpar. The penalties—or even just the threat of them—are such that people just don't want to go there. Cubans aren't even allowed to enter hotels and restaurants that are reserved for tourists. Of course, even if they could, they can't afford anything to do there, as the prices are based on tourist-dollars, which are comparable to high-end American hotels and the like. (Tourism is Cuba's main revenue generating industry.) This has created a dual economy, where the natives have prices (and currency) for goods and services completely separate from the tourist economy.

The middle ground between these two perspectives is, Ironically, the Cuban people themselves: one cannot help but witness how they live, and what their lives are like at all levels, and see a gestalt view that paints a different picture from both extremes. There is no overwhelming sense of suffering (unless you insist on seeing it—but then, you can see that in America, Western Europe, etc.). The thriving black market provides teenagers with rollerblades and the latest MP3 players, CDs and televisions. (In other words, more people are participating in the dual economy than what one might think.) Indeed, even my discussions with the most impoverished, I noticed a strong sense of self, happiness, family and optimism. There are extremely little crime (even if the reason is suboptimal) and strong social bonding between all people, which prompts one to think philosophically about the association between equality, happiness and basic needs at the expense of giving up certain freedoms.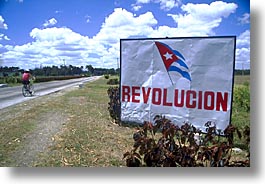 Before you get all in an uproad over the last statement, let me finish the thought: Since those of us in the "Western World" have taken certain freedoms for granted, where we can say and do most anything we like—especially when it comes to goverment—we are especially appalled to see a country that has no such freedoms. In fact, Cuba is most harsh when it comes to any form of political dissent, with penalties ranging from horrific imprisonment, to highly-publicized executions. Many anti-Castro critics rightfully point to this and argue that this is the worst form of injustice. Yet at the same time, poltical analysts and philosophers have pointed out that, in the United States, innocent people have been put to death regularly due to incompetent legal representations, or other flaws within the legal system. So, which is worse? Both are "systemic" to some degree. Yes, obviously, both are bad and we always strive for optimism, and the US does have a political system that allows for change, even if it doesn't always succeed at every level.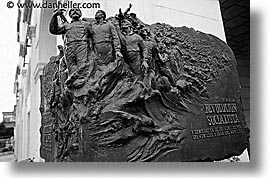 And, then there is also the concept of "give me liberty, or give me death," the famous quote by Patrick Henry, which embodies a concept most Americans take for granted. As a philosophical thinker, I see the strange dichotomy between the happiness of a group of people who are living in a society that most westerns would consider intolerable, and the happiness levels of Americans, who lead the world in the consumption of anti-depressants.

When I look at Cuba as a whole, I see a strange form of sublime happiness that, for me, is almost enviable. We in the West deal with day-to-day social frustrations, like the onslaught of advertising, inappropriate entertainment programming (or not enough of it), religious encrhoachment on government (or not enough of it, if you're one of those), career competitiveness, individualism gone awry, customer service phone calls that kill your entire day, telemarketers, and a news media that is more concerned about entertainment and the financial bottom line than it is about reporting actual "news" (in a newsworthy manner). Each of these are individually minimal and managable, but as a whole, the general streesses of Western life become inescapable and suffocating. It's a death of a thousand cuts.

Then, I witness the lack of such problems to the average Cuban. One cannot help but be have the feeling of a breath of fresh air, like going back in time to when such problems never existed. Could it be that the Mediocrity Theory of the Universe applies at the mico-sociological level as well? That it doesn't matter where you go, the net sum always adds up to the same value? In the grand scheme of things, are we simply trading one set of problems and benefits for another, such that in the end, it's all the same really?

You see, this is what I mean by my interpretation of things. Welcome to the world of philosophical thinking. Obviously, each of us must decide that for themselves on such matters. One thing that is universally true, however, is that people feel the need to have control of their own destiny, regardless of the pitfalls that such responisibilities may bring. Does that mean Cuba is inherently evil because their form of government limits people's right of self-government? As Plato once wrote,
"Any form of government works if the people are happy with it."
Hence, the odd paradoxes of philosophical thought. For me, visiting Cuba makes me ponder the question all the time. I wouldn't give up what I know and love today, but I can't help but feel a sense of calm, peace and tranquility when I visit a country so immune to the troubles of the world.

Odds and Ends

Old books and other odd things are sold in flea markets, set up mostly for the benefit of tourists, articule the (original) vision of Castro and other Marxist thinkers of the era. There isn't very much graffiti in Cuba, but what's there is always about socialism or other nationalistic rhetoric. Here, the text, "socialism or death" is prominently displayed next to a car-repair garage.


The Cuban Flag


The Cuban flag is raised and lowered every day at this site, next to the Capital building, which was where the congress and the senate would meet when the country was a democracy. Different groups, such as school children and other social organizations, participate in the ritual on different days. Here, two nurses conduct the honors.


Elections


Local citizens may run for election to a post where they communicate the needs of the community to the government. One does not necessarily have to be a member of the communist party to run or be elected, but it probably doesn't hurt when it comes to getting things done. It's unclear whether there this is a stepping stone for future political aspirations. Notice for the date and place for the meeting where local citizens are elected as community leaders.


Police


While Cuban police don't "hassle" citizens the way most of us Americans think our police do to us, the police are passionate about their work in keeping a very tight control over the population. It's rare to see a policeman not interviewing someone about who they are, where they're going, and what they're doing. It is required to always have your ID with you, and there are stiff penalties for not doing so. You must have a permit for almost anything you have or do, and the police enforce this policy diligently. Some people claim to be stopped two or three times a day, and each occasion can take about 30 minutes.

The advantage to the police is that tourists are very safe. In fact, Cuba is probably the safest place I've ever felt in the entire world. Since tourism is Cuba's biggest industry, it's in their best interests to keep it that way. There is very little crime, but you can still lose your money by spending it on overly priced gifts.


Click to recommend this page: